Facilities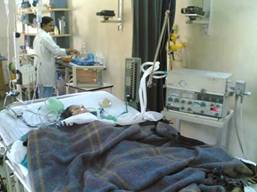 World Class Facilities at Lower Rate
24 Hours Cardiac Emergency
TMT, Colour Doppler, Stress Echo, Cardiac checkup implantation, etc.
Coronary angiography,Angioplasty balloon mitral valvotomy, Pacemaker
Open Heart Surgeries - Coronary Bypass Surgery, Valve replacement & repair, Surgery for congenital heart disease even in neonatal age group, Aortic surgery, etc.
Modern Blood Bank - Lions Jeevan Blood Bank (A unit of Jeevak Heart Hospital)
ICU - Cardiac/Non-cardiac equipped with high end cardiac monitors, Ventilators, 2IABP machine, 2 Dialysis machine.
A fully equipped cardiac ambulance - virtually a mobile ICU-monitor, Ventilator,defibrillater equipped with all devices and support systems.
All critical medical equipment are connected through U.P.S.
Oxygen / Medical gas/ Suction: Centralized Piped supply to all patient bed areas.
Water supply: Municipal mains; Stand by: Own Deep well Boring
Drinking Water: Piped water filtered by Aquagurard Filter
Drainage & Waste Disposal: Through municipal system
Hospital Waste: Electric Incinerator
Details of diagnostic / investigative facilities.
ECG
Chest X-Ray
Routine Lab investigations.
ECHO Colour Doppler with Trans Esophageal Echocardiography
Treadmill Test (TMT)
Holter Monitoring
Stress ECHO (Dobutamine Stress Test)
Coronary Artery Angiography (CAG)
Overseas patients : For overseas patients, special arrangements are made for their stay at Country Club International group of Hotels. The rates have been specially subsidized for patients of Jeevak Heart Hospital. Once discharged after treatment / surgery from the hospital, the patient may need to stay for 1-2 weeks depending upon their condition.