Consultants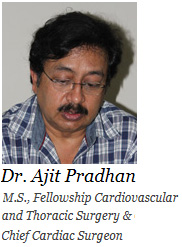 Dr. Ajit Pradhan has more than 20 years of working experience in Cardiovascular and Thoracic Surgery. He extensively trained in Cardiovascular and Thoracic Surgery in Philippines England and Australia in reputed centres like Philippines Heart Centre for Asia, Manila; Guy's Hospital London, U.K.; Royal Victoria Hospital Belfast, U.K.; Royal Childrens Hospital, Melbourne and Royal Melbourne Hospital, Melbourne Australia, where he completed his fellowship training in Cardiovascular Surgery, before he come back to India, nearly 10 years ago, and joined St. Stephens hospital Delhi as Chairman and Head of the Department of Cardiac Surgery. He was asked to set up Cardiac Surgery Programme in Bihar, one of the most populous State of India.
Dr. Pradhan pioneered open heart surgery and bypass surgery in Bihar, having done the 1st bypass surgery and open heart surgery in Bihar. Public poll conducted by leading national daily adjudged him as the person who has made the most difference to the state of Bihar by starting cardiac surgery, with great relief to the people of this state, so that now they don't have to travel to faraway places for Cardiac surgery and Cardiac intervention. He has performed nearly 5000 surgery for various heart ailments - mostly coronary artery bypass grafting and valve replacement but also surgery for simple and complex congenital heart defect including in neonatal age group. Dr Pradhan's surgical results are good and the mortality morbidity rates are very low, with not one patient in the last 5 years having any deep sternal wound infection.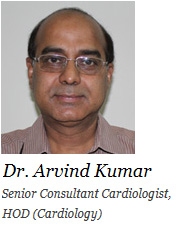 Dr Arvind Kumar, MD, DM (Card.) is a Senior Consultant and Interventional Cardiologist & Head of Department of Cardiology at Jeevak Heart Hospital. He has a vast experiences in clinical and interventional cardiology, having done more 3000 coronary and non coronary intervention to include PTCA with stent (Angioplasty with stent), Balloon mitral valvotomy, Permanent pacemaker implantation, Balloon aortic and pulmonary valvotomy.
Prior to joining Jeevak Heart Hospital, he was Assistant Professor, Cardiology at IGIMS Patna.